As summer drew to an end, Kim and I hastily readied ourselves for a fall trip. We'd been toying with a few ideas, but the Wrangells were calling and a long bike/raft traverse was what we desired. We loaded our new truck with bikes, rafts, camping gear and food and began the long drive east.
The Wrangells are a range of massive volcanoes in eastern, interior Alaska. They are both where I was raised and where I lived as a young 'man' and had done more to shape me than any other place ever has or could. I was excited to share them with Kim and to have an opportunity to reconnect.
Many people in Alaska find it hard to break away from their community and often miss out on the rest of what the state has to offer. I never want to fall into that trap and make a point to travel as often as possible. When an old family friend asked when the last time I'd been to the Wrangells was, I had to think about it. 2004 was the answer. Unacceptable.
Our goal was to traverse from north to south in one of the few non-glaciated routes in the range. September could be a great month for the trip because the creeks and rivers are low, but the threat of early snow becomes very real and nighttime temperatures drop well below freezing. We were a little worried that the route offers no easy bailout option and that we'd not be carrying the In-Reach tracking device, but our enthusiasm was in overdrive. I had wanted to do this trip for many years.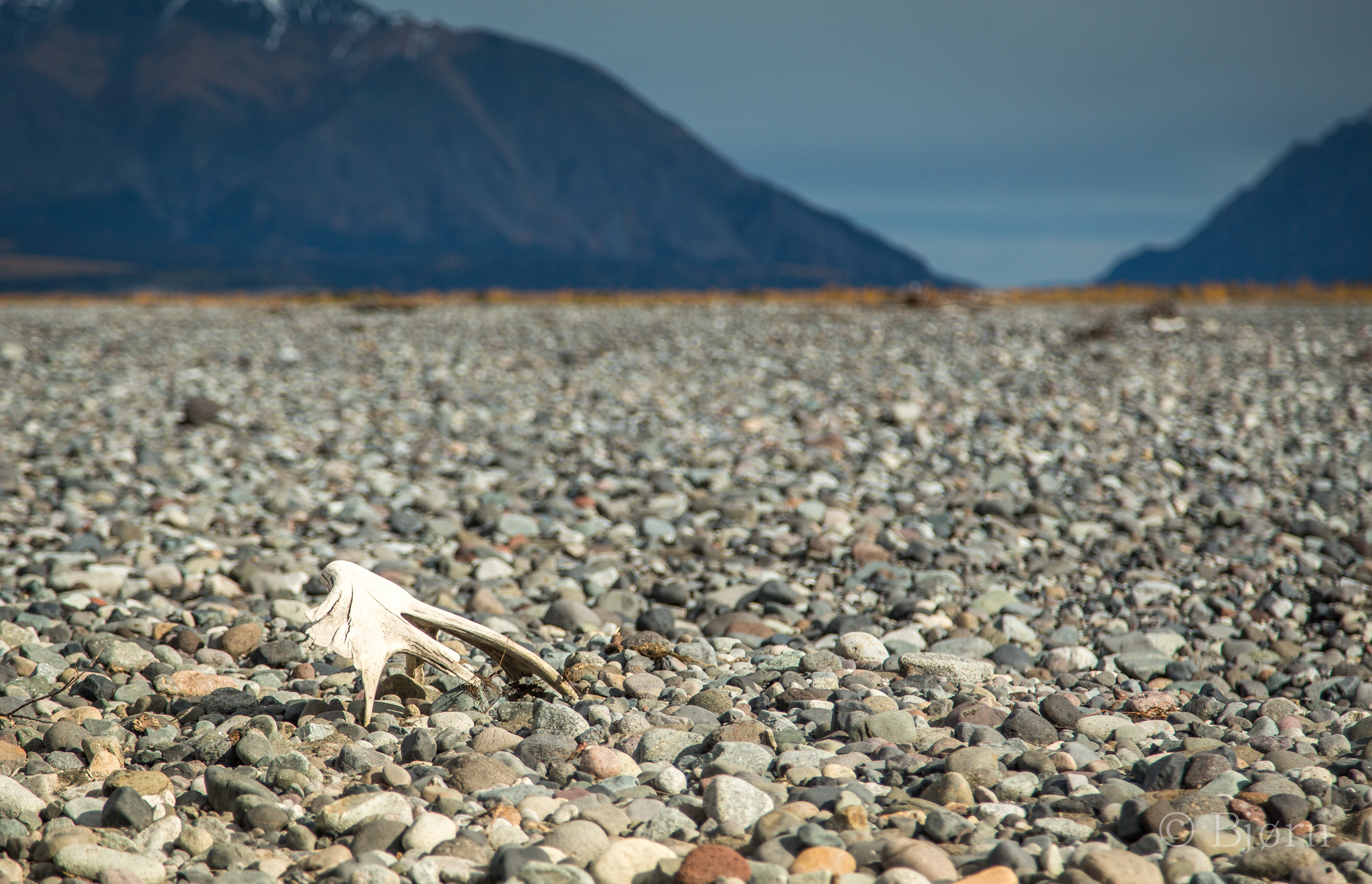 Snow had descended below 2,000 the morning we drove the Nabesna road. By mid-day we could see the warmth of the sun melting it back up the hills. Nervous discussions ensued about snow and the fact that we'd be crossing passes of 5 and 6 thousand feet in elevation. "It's become so hard to predict the weather." Cole Ellis said, as we discussed our route with him at Devils Mountain Lodge. My father had guided with Cole in the early 70's and his family had been living in the Wrangells since the 50's. I was thankful that he didn't think us stupid or reckless for attempting our trip this late in the season but he mentioned the value of the safety net in the form of a tracking device. He was as ambivalent about the weather as us and agreed that it could go either way.
After a visit and tour of the property, Kim and I loaded our bikes, shouldered our packs and headed down the trail. Fall colors in the big mountains defy description and pull much needed attention from our gazes. We'd stop every time we rounded a bend or entered a clearing to take in the majestic and colorful landscape.
After a few miles we reached a creek where we inflated the rafts, stowed gear and began paddling. After a short trip down the creek we joined the braided Nabesna River and followed it down several miles to a confluence with a creek that we'd follow up into the high country the following day. Near gale force winds blew up river. Whenever we got out of the rafts to scout or portage over an island we had to anchor them with rocks. Paddling down river never seemed so slow. Summer was clearly over.
Riding up riverbeds on big tired bikes is tremendous fun. Micro lines through a series of seemingly unrideable rocks present themselves at the last second. Just when you think you'll have to dismount and push, the line comes into focus and you power/navigate through. Little bursts of elation pop in your head every time a successful passage over the rocks fall behind you.
Kim and I worked our way up the creek for the first half of the day until we reached a fork. From there the incline steepened, the rocks became bigger and the bike pushing began. Earlier, Kim had been swept off her feet during one of the many creek crossings. Our new creek bed flowed with less water but the nervous pit in our stomachs returned. There were many creeks to come.
"This is no where near where we are." I was reading the latitude and longitude on our GPS and lining them up on our map. The two lines intersected on our map but they were 20+ miles to the north west of our actual position. We'd been leaving "breadcrumbs" as we went but until now we hadn't taken the time to read our coordinates and impose them on the map. We shut the unit off and tried again. The result was the same. "We've put in a long day. Let's sleep on this problem and address it in the morning." I said.
The next morning, over coffee, we discussed long and hard the situation we were in. Excluding our navigation equipment, our gear was awesome. Our hearts and bodies were in but our minds couldn't get over our inability to navigate in anything but clear weather. "What happens when we reach the Chitistone and it snows?" "Will we be able to find the pass and what about the skinny little goat trail on the 40+º slope?" There are many wrong ways to go but only one right one. The day was beautiful and clear but already light cirrus was brewing on the southern sky. "Fuck!"
We've become used to these complicated tools that reach up into the sky at the speed of light, find three or more satellites, use trilateration and fix you to a reasonably exact position on earth. The consolation from that information can be both trivial and life sparingly incredible. To face the rest of our traverse without the GPS was to remove precisions and expect luck to be our guide.
As the morning wore on more cirrus moved into the sky and we made the tough decision to retreat. Our only consolation was that we would come back and this had been a good recon. Our return trip involved biking back up the Nabesna River. It never ceases to amaze us how perfectly adapted big tire bikes are for much of Alaska's remote terrain and we made the most or our loop back to the truck.
Days later one of us would bellow, "Damn! I bet we'd have been fine. We should have tried." The other would console, "We made the smart decision and need to remember that." The roles would reverse in an hour and the bellyaching would begin all over again.
We had time before we needed to come home so we drove to the southern Wrangells and spent two days exploring the Root Glacier out of Kennicott. The weather warmed but with the warmth came rain and the trip across the glacier with bikes was out. On warm days the surface of glaciers metamorphoses into loose, crunchy ice that offers traction and purchase. When it rains the ice stays smooth and slick and crampons become necessary.
We followed the lateral moraine toward the Stairway Icefall, one of the seven wonders of Alaska, in my opinion. The icefall begins in an ice field above eleven thousand feet and in less than five miles flows down to thirty five hundred feet. The earth trembles under the force of this steep river of ice and you can feel geology happening around you.
As a fresh faced 19-year old I moved out to McCarthy/Kennicott to climb mountains. My first gig was "curator" of the museum. Although my time spent with the old-timers learning about the human history of the Kennicott Mine was fascinating, I was constantly pulled into the hills. Room and board was not enough of an enticement so by mid-summer I'd moved up to Chris Richards place in Kennicott. Chris was a survivor of the famous massacre who was then running a historic tour business. Without much effort I talked him into letting me take tourists out on the glacier and later into guiding fly-in multi-day mountaineering trips, under his insurance.
Chris died years later in a tragic house fire along with his survivor's guilt and treasure trove of tales. I love telling other people's stories, but few if any as much as his. The wild, drunk pirate is gone but the guide service lives on and it was easy for me to feel like a first time visitor. So much has changed since I lived there that it's not worth a comparison and we enjoyed our time without reservation or wistful longing for the 'old times'.
On our return trip through Chitna we stayed again with our friend Michael Moody. Few people know how to squeeze a dime further and survive longer on less than this man. Every time I visit, his garden doubles in size and his breadth of wisdom about Alaskan botany triples. He lives in a shack next to the log cabin church that was built when the area was developed in the turn of the twentieth century. Growing, procuring, and subsistence fill his days along with being the only local EMS first responder and teacher. I am not religious but being around Michael feels like being in the presence of a saint – the saint of the Alaskan bush. Wild mushrooms were blooming and with Michael's directions, we used our last day in the Wrangell's to harvest as many agarics as we could find to dry for our winter larder.
We freely admit that we are spoiled beyond redemption. We've raised our personal bars rather high so when we are forced to return from a trip prematurely it hits us hard. We've gone over and over our decision to retreat and always land on that we made the 'wise' choice. The tenor and nature of the trip changed after our decision was made and I do not regret having seen people and spending a more relaxed time with old friends. To quote Woody Allen: 'If you're not failing every now and again, it's a sure sign that you're not trying anything very innovative.'
Note: I've been in contact with the FAA since being home in an attempt to find reason for our GPS failure. In August, the Air Force was doing controlled GPS outages but I am still not sure if there is a correlation. I also found a site that posts when there will be scheduled GPS outages. Seems like a worthwhile thing to peruse before heading into the backcountry.